API Plan 54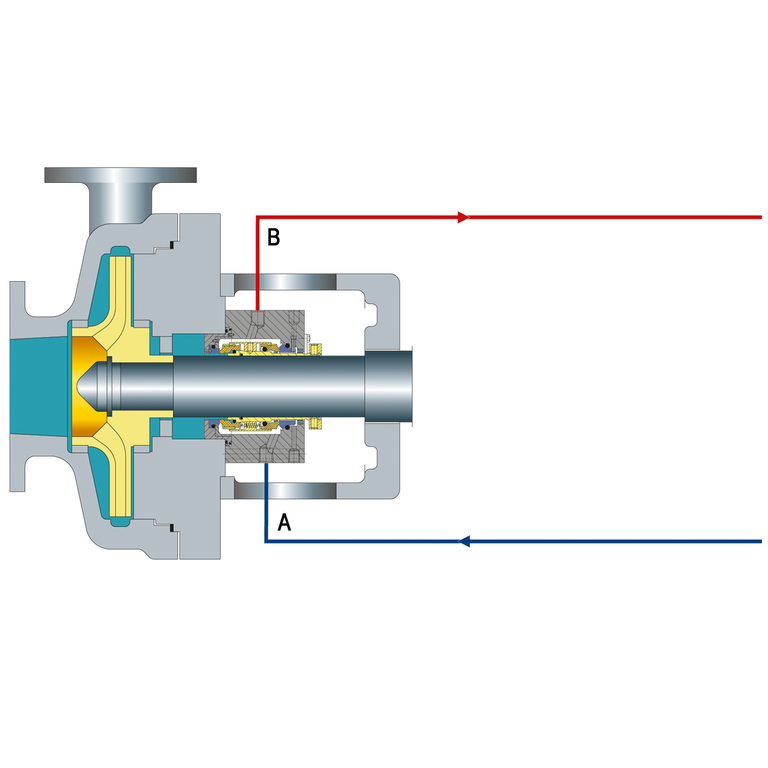 API Plan 54
Pressurized external barrier fluid system supplying clean liquid for an arrangement 3 pressurized dual seal. The barrier liquid is maintained at a pressure greater than seal chamber pressure and is circulated by an external pump or pressure system.
A From external source
B To external source
---
Seal chamber details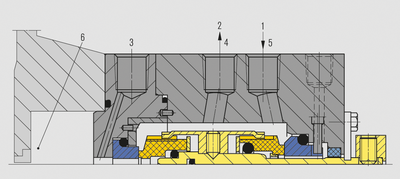 1 From external source
2 To external source
3 Flush (F)
4 Liquid barrier OUT (LBO)
5 Liquid barrier IN (LBI)
6 Seal chamber

Example seal: EagleBurgmann H75A4-B dual pusher mechanical seal.
---
P&ID according to API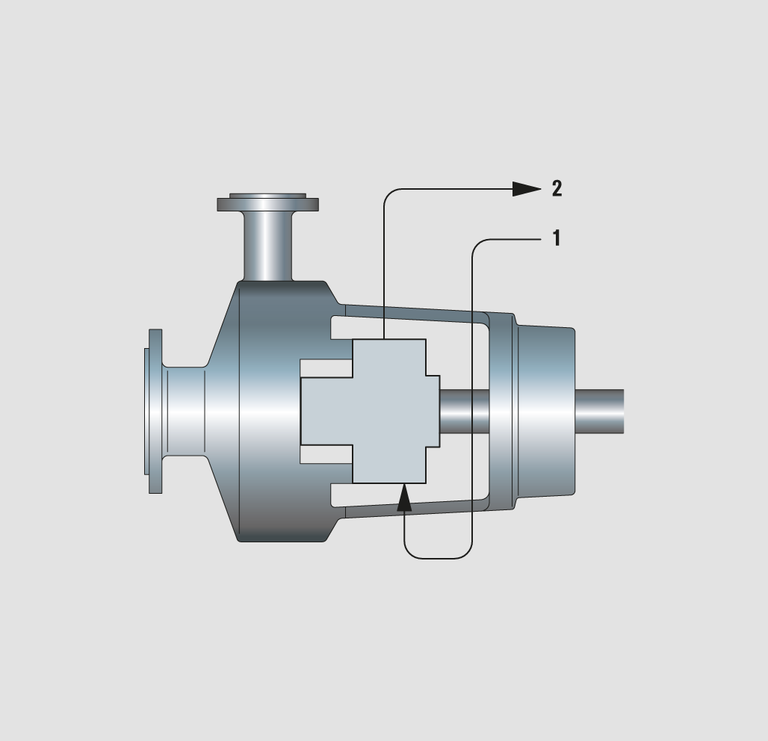 Key
1 From external source
2 To external source
Features
Most reliable of all dual pressurized plans when properly engineered.
Provides barrier liquid circulation and cooling even though the process pump is in stand-by mode.
The pumped fluid becomes contaminated but never leaks to the atmosphere unless the system pressure is lost.
Ensures positive barrier fluid circulation and better heat dissipation due to higher flow rates as compared to 53A, 53B or 53C. Heat is removed with the help of a water cooler or an air cooler.
Uses a pump to ensure barrier liquid circulation and pressurization.
May employ a nitrogen / inert gas blanket for barrier oil applications.

Application
Applications which require higher heat dissipation, which limits the use of Plans 53A, 53B, or 53C.
For services where product dilution is acceptable.
For services where media is unsuitable for flushing the inner seal faces.
For services where Plan 53A cannot be used due to non-availability of central pressure source.
For applications with high pressure and/or high temperature or where an internal circulating device would not lead to effective circulation.
Where a single system is utilized for multiple seals.
Remarks, checkpoints
Check with the process engineer if product contamination is acceptable.
Check barrier fluid compatibility with the media.
In case the system has a strainer or a filter, check for blockages.
Note that the loss of pressure in the system may cause the pumped media to enter the entire Plan 54 system.
Ensure that the barrier pressure is always higher than the seal chamber pressure by at least 1.4 bar (20 PSI).
Plan 54 systems need careful engineering based on the application.
Pump media characteristics
Suspended solids
Polymerizing and contaminated media
Poor lubrication properties
Hot services
Hazardous / environmentally harmful
Leakage may form solids
Close to vaporization point
Can tolerate dilution with barrier media
Location, function
Between seals
Barrier system (psealchamber < pbetweenseals)
Lubrication and flushing for the outboard seal and cooling for inboard as well as outboard seals.