API Plan 72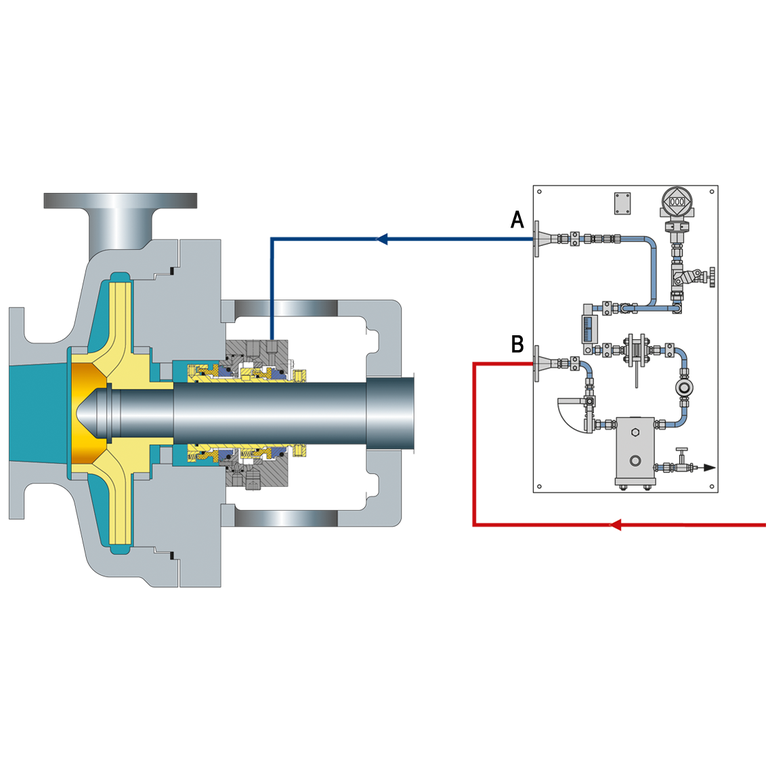 API Plan 72
Externally supplied buffer gas for arrangement 2 unpressurized seals with a dry running containment seal. Buffer gas is maintained at a pressure less than seal chamber pressure.
A Gas OUT
B Gas IN
---
Seal chamber details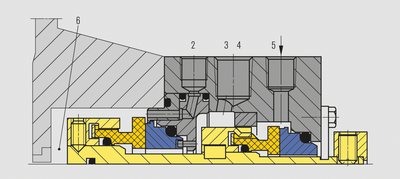 2 Flush (F)
3 Containment seal vent (CSV)
4 Containment seal drain (CSD)
5 Gas buffer inlet (GBI)
6 Seal chamber

Example seal: EagleBurgmann H75LG4-C dual pusher mechanical seal.
---
P&ID according to API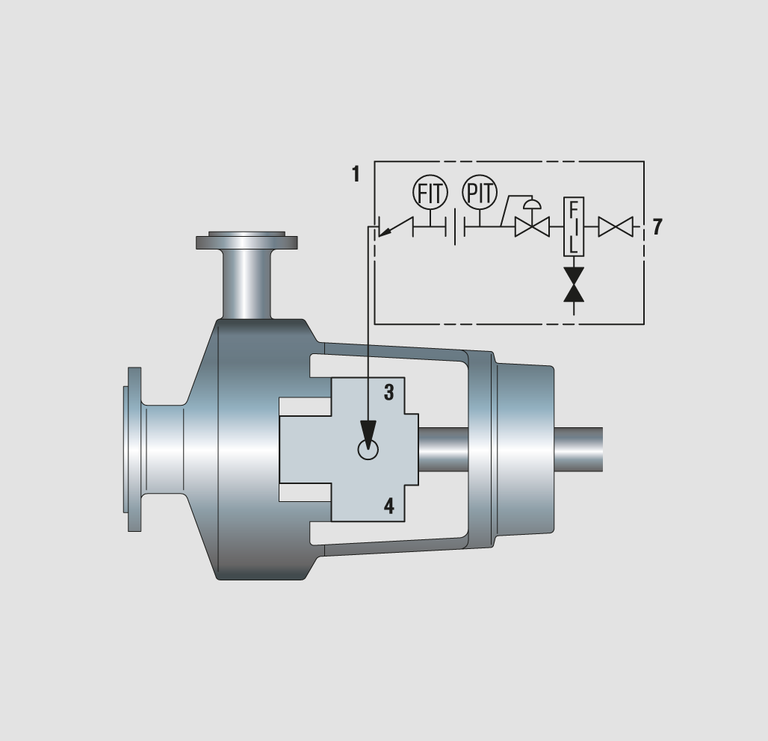 Key
1 Buffer gas panel
3 Containment seal vent (CSV)
4 Containment seal drain (CSD)
7 From buffer gas supply

FIL Coalescing filter
FIT Flow transmitter with local indicator
PCV Pressure control valve
PIT Pressure transmitter with local indicator
Features
Is used together with Plan 75 (for condensing leakage) or Plan 76 (for vaporizing leakage).
The buffer gas is usually nitrogen and acts as a supply medium for the outboard seal and as a sweeping medium for leakages from the inboard seal.
Nitrogen blanket reduces the explosion hazard arising out of leakages from the inboard seal as well as prevents icing in cryogenic applications.
Application
May be used for flashing as well as non-flashing services.
Remarks, checkpoints
Always ensure that the buffer gas pressure is less than the seal chamber pressure.
Set the forward pressure regulator to min 0.4 bar (5 PSI) above the normal flare pressure.
The buffer gas pressure should not exceed 0.7 bar (10 PSI).
Ensure that the CSV port is oriented to the 12 o'clock position and CSD to the 6 o'clock position.
Pump media characteristics
Hazardous / environmentally harmful
High vapor pressure fluids
Clean non-polymerizing fluids
Fluids condensing or vaporizing at ambient temperatures.
Location, function
Between seals
Buffer system (psealchamber > pbetweenseals)