API Plan 12
API Plan 12
Recirculation from the pump discharge through a strainer and a flow control orifice into the seal chamber.
A Strainer
B Flow control orifice
---
Seal chamber details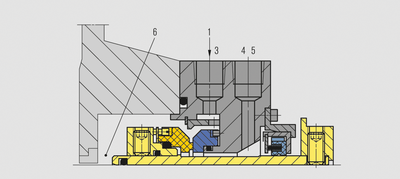 1 From high pressure region of pump (pump discharge or pump discharge piping)
3 Flush (F)
4 Quench (Q)
5 Drain
6 Seal chamber

Example seal: EagleBurgmann LL9UC single pusher mechanical seal.
---
P&ID according to API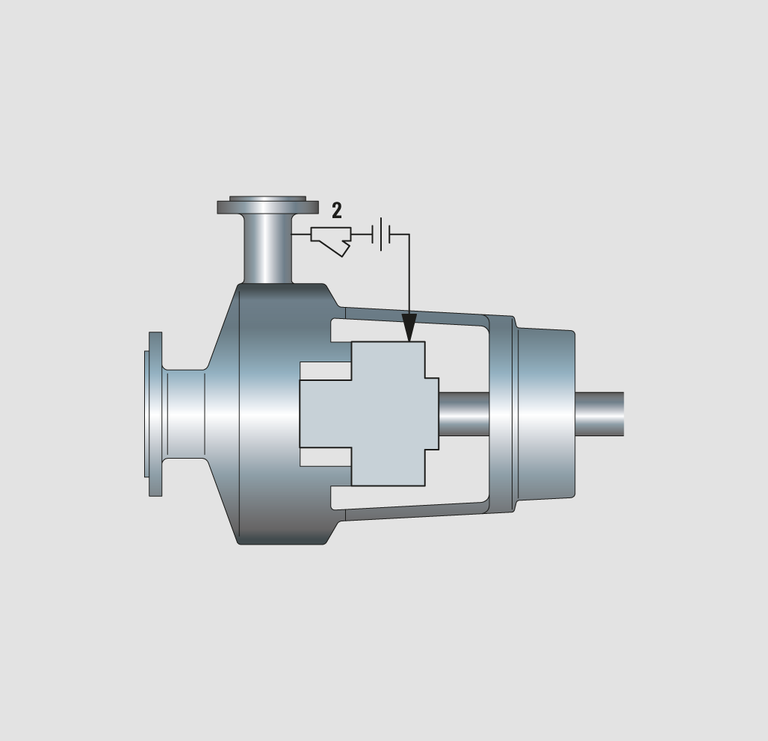 Key
2 Strainer
Features
Similar to Plan 11 but with the addition of a "Y" strainer to remove occasional solid particles.
Acts as a flushing as well as a self-venting plan for horizontal pumps.
Uses a flow control orifice to restrict the flow of flush fluid going to the mechanical seal.
Application
Slightly contaminated (fluids with suspended solids), non-polymerizing fluids with low temperatures.
Remarks, checkpoints
The strainer must always be installed before the orifice.
Strainers often have a tendency to choke and thus lead to starvation and, eventually, failure of the mechanical seal. The strainer should be maintained and serviced at regular intervals.
This plan does not function reliably enough to achieve a three-year operating life and is therefore generally discouraged.
For the same reason Plan 22 (12 + cooler) is also discouraged.
A Plan 32 or a dual pressurized seal is a recommended option for such applications.
Pump media characteristics
Clean, non-polymerizing fluids with moderate temperatures.
Location, function
Process side
Flushing and cooling
Configurations
1CW-FL, 1CW-FX, 2CW-CW, 2CW-CS, 3CW-FB

3CW-FF*, 3CW-BB*, 3NC-FB*, 3NC-BB*, 3NC-FF*
* Remark: The configurations listed for each individual piping plan are to be understood as recommendations including possible utilizations which may also be applied.