API Plan 32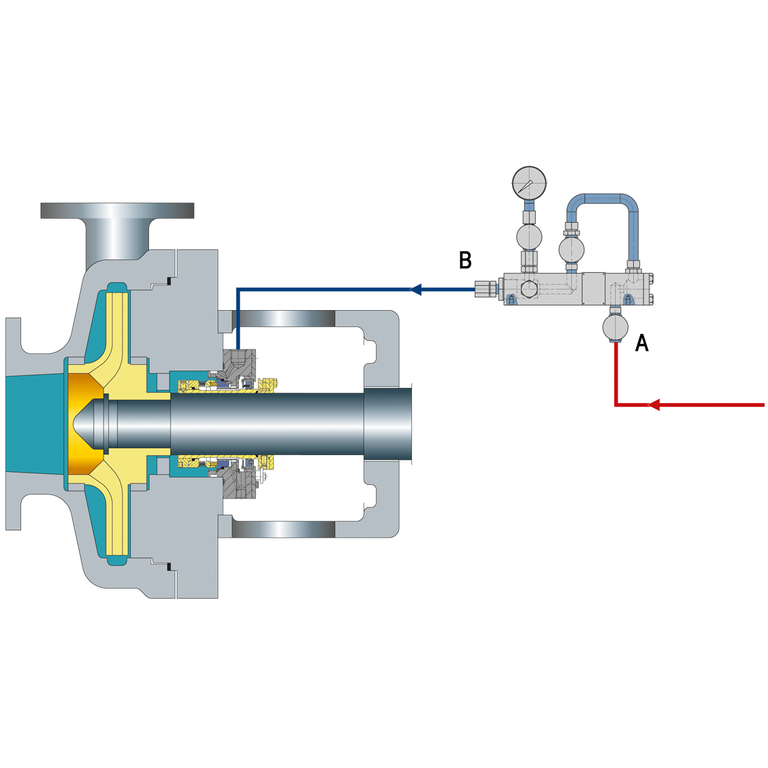 API Plan 32
Injection of clean fluid into the seal chamber from an external source.
A From external source
B To seal
---
Seal chamber details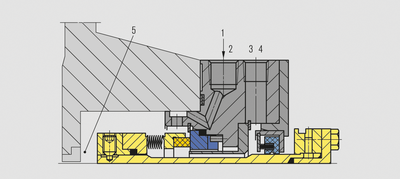 1 From external source
2 Flush (F)
3 Quench (Q)
4 Drain (D)
5 Seal chamber

Example seal: EagleBurgmann MBS682 single metal bellows mechanical seal.
---
P&ID according to API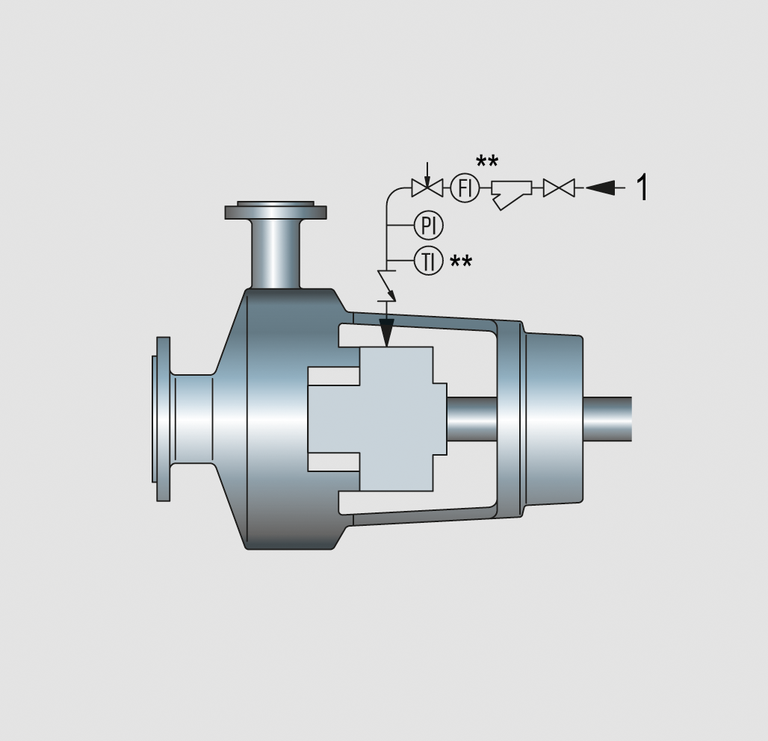 Key
1 From external source

FI Flow indicator **
PI Pressure indicator
TI Temperature indicator **
** Optional
Features
If maintained properly, the best flush plan for single seals or inboard seals in dual seal arrangements (provided media dilution is acceptable).
Used in conjunction with a close clearance throat bush to maintain an elevated pressure in the seal chamber and to isolate it from pumped media.
Application
Fluids with solids and contaminants where pumped fluid can accept an external flush.
To reduce flashing or air intrusion (as in vacuum services).
Can be used on horizontal as well as vertical pumps.
Remarks, checkpoints
The external flush media should be compatible with the pumped media.
Flush media should not vaporize on entering the seal chamber and should be always on – even during start-up and shut-down.
Pressure of the external flush should always be at least 2 bar (29 PSI) above seal chamber pressure.
Consider economic impact of product dilution, if any.
Pump media characteristics
Suspended solids
Poor lubrication
High temperature
Hazardous / environmentally harmful (only in combination with additional API plan).
Location, function
Process side
Flushing and cooling
Configurations
1CW-FL, 1CW-FX, 2CW-CW, 2CW-CS, 3CW-FB, 3CW-BB, 3CW-FF

3NC-FB*, 3NC-BB*, 3NC-FF*
* Remark: The configurations listed for each individual piping plan are to be understood as recommendations including possible utilizations which may also be applied.