API Plan 41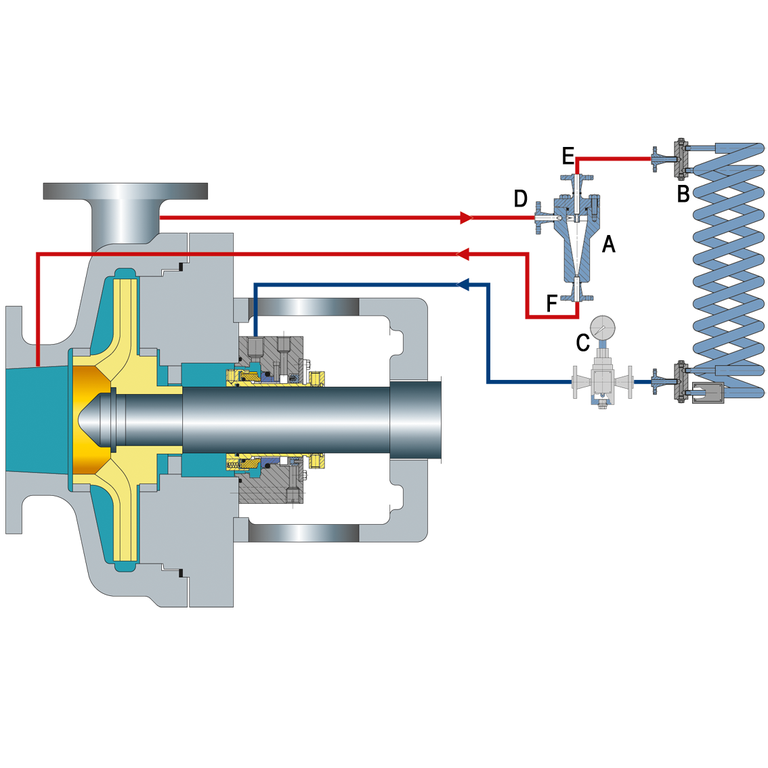 API Plan 41
Recirculation from the pump discharge through a cyclone separator delivering the clean fluid to a cooler and then to the seal chamber. The solids are delivered to the pump suction line.
A Cyclone separator
B Cooler
C Temperature indicator
D Contaminated liquid IN
E Clean liquid OUT
F Separated liquid OUT
---
Seal chamber details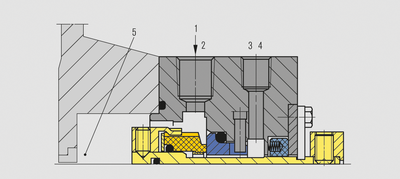 1 From cooler
2 Flush (F)
3 Quench (Q)
4 Drain (D)
5 Seal chamber

Example seal: EagleBurgmann H75VA4-S single pusher mechanical seal.
---
P&ID according to API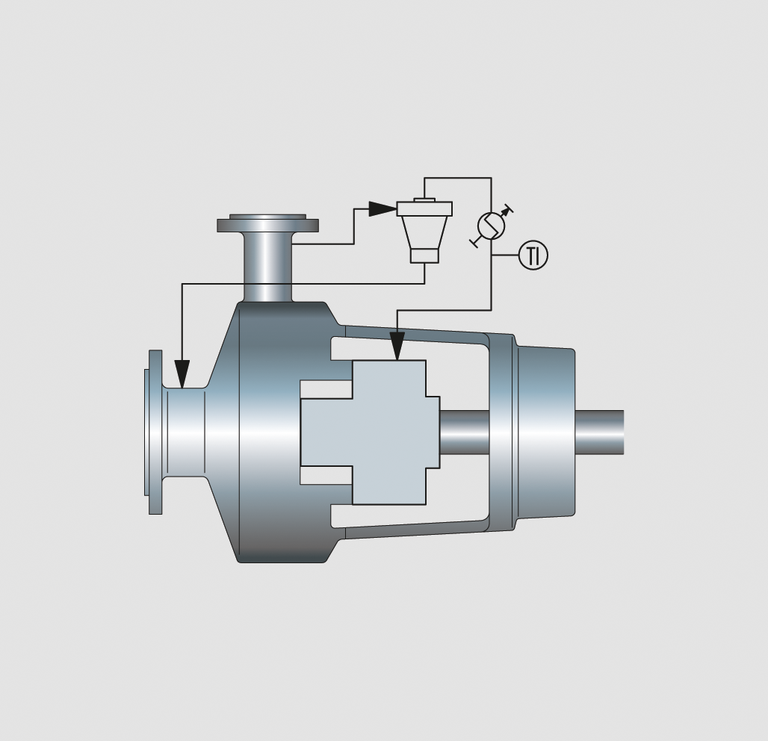 Key
TI Temperature indicator
Features
Plan 41 is a variant of Plan 31 (Plan 31 + cooler).
A cyclone separator removes solids and prevents all but a few minor particles from reaching the seal chamber.
The media properties retained as solids are routed back to the pump suction.
The cooler cools down the media and improves the pressure margin to the vapor pressure.
Application
Horizontal pumps conveying hot media with heavy solids.
Horizontal pumps conveying hot water with sand or slag inclusions.
Remarks, checkpoints
Specific gravity of the solids should be at least twice that of the pumped media. In other cases Plan 32 is recommended.
The installation of the pump throat bushing must be ensured.
Not applicable for extremely contaminated media. Plan 32 is recommended in such cases.
Cooler performance is high and may lead to water side fouling.
Can lead to reduced reliability due to abrasive wear inside the cyclone.
Routine inspection of the cyclone for abrasive wear is recommended.
Pump media characteristics
Suspended solids
Poor lubrication
High temperature
Close to vaporization point
Location, function
Process side
Flushing and cooling
Configurations
1CW-FL, 1CW-FX, 2CW-CW, 2CW-CS, 3CW-FB, 3CW-BB, 3CW-FF

3NC-FB*, 3NC-BB*, 3NC-FF*
* Remark: The configurations listed for each individual piping plan are to be understood as recommendations including possible utilizations which may also be applied.